References
WikiPedia.org; Internet Reference, 2010.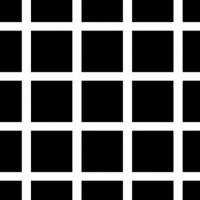 A grid illusion is any kind of grid that deceives a person's vision. The two most common types of grid illusions are Hermann grid illusion and the Scintillating grid illusion.
The Hermann grid illusion is an optical illusion reported by Ludimar Hermann in 1870. The illusion is characterised by "ghostlike" grey blobs perceived at the intersections of a white (or light-colored) grid on a black background. The grey blobs disappear when looking directly at an intersection.
Web Resource: en.wikipedia.org
---
This reference is included in the following Listings: